Innovative Concrete Technology
Not available for purchase online.
Stamp It 4000 is an easy to use add water only decorative concrete overlay stamping system composed of a unique blend of cement, mineral aggregates, polymers and chemicals that forms a tough and durable surface. While the Stamp It 4000 50 pound bag mixture is designed to be easily combined with water, its structure also provides for superior bonding capabilities, freeze-thaw resistance and quick drying, which saves time and money during installation. Stamp It 4000 is designed for both commercial and residential concrete surfaces such as driveways, walkways, pool decks, patios and much more
TECHNICAL DATA SHEET
Product #680 - 50 lb.
Share
View full details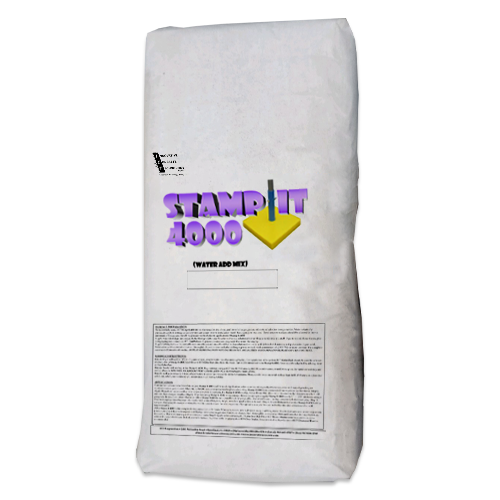 Support
Sales & Support

With a combined experience of over 80 years in distribution and decorative concrete installation, our Technical Support Department provides unmatched support in application, preparation, trouble shooting, and assisting you in finding the right products for your applications.

For sales and technical support, please email sales@innovativeconcrete.com or call 888-296-5236. Our support team is available Monday – Friday 7:30 a.m. - 4:30 p.m. (EST) for one-on-one assistance by phone.

Se Habla Español - Para información o preguntas llamar al 888-296-5236.
Shipping & Receiving

Our Shipping Department will ship all orders next day and all UPS before 2:00 pm same day. All receiving is done Monday thru Friday, 7:30 am – 4:30 pm EST. 

For more information, please email sales@innovativeconcrete.com