Innovative Concrete Technology
Regular price
Sale price
$20.00
Unit price
per
Sale
Call for local distribution
Total Strip is a nonflammable, water-based acrylic coating stripper designed to safely remove acrylic paints and sealers. It can be used outdoors and indoors, wherever water can be used.
Total Strip can be applied with a pump up sprayer, brush, or pour and spread method.
TECHNICAL DATA SHEET
Product #710
Share
View full details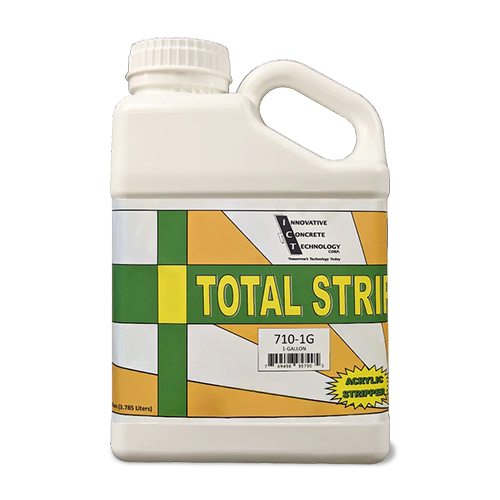 Support
Sales & Support

With a combined experience of over 80 years in distribution and decorative concrete installation, our Technical Support Department provides unmatched support in application, preparation, trouble shooting, and assisting you in finding the right products for your applications.

For sales and technical support, please email sales@innovativeconcrete.com or call 888-296-5236. Our support team is available Monday – Friday 7:30 a.m. - 4:30 p.m. (EST) for one-on-one assistance by phone.

Se Habla Español - Para información o preguntas llamar al 888-296-5236.
Shipping & Receiving

Our Shipping Department will ship all orders next day and all UPS before 2:00 pm same day. All receiving is done Monday thru Friday, 7:30 am – 4:30 pm EST. 

For more information, please email sales@innovativeconcrete.com